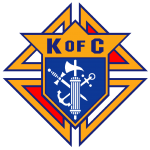 Brother Knights,
I want to thank you for letting me serve as Grand Knight for the past two years. I enjoyed guiding the council to help the parish and the community. I am elated with the friendship that was formed with each of you. I want to personally thank all of the officers and directors who served during my term. You guys did an excellent job and are rock stars! I couldn't have done it without you!
Please let me congratulate Chet Elder as our next Grand Knight. Chet has the passion and desire to lead our council to the next level. He will do an amazing job!

Congratulations to our new chosen officers who were voted in at our last business meeting:
Chet Elder – Grand Knight
Christopher Harden – Deputy Grand Knight
Fr. Gregory Bierbaum – Chaplain
David Stauber – Chancellor
Robert Hay – Recorder
Bruce Allen – Treasurer
Gregory Staley – Lecturer
Patrick McAllen – Advocate
Rex Rhinehart – Warden
Mark Smith – Inside Guard
Monte Brook – Outside Guard
Robert Wilson – Trustee One Year
Bernie Kuta – Trustee Two Years
Tim Mosholder – Trustee Three Years
John Joseph will continue his role as Financial Secretary, which is an appointed position. Thanks John for all that you do for the council!
I encourage my brothers who have not been active within the council to re-engage. Please volunteer one hour of your time each month plus attend our business meetings once a month.
Lastley, "Continue to help people, continue to change lives; and continue to save lives!"

Vivat Jesus,

Tim Mosholder – Council 1498